Here at The Culture, we are all about Hip-Hop. We are also all about lists. Here are our top 10 rappers with the best flows in the history of rap.
Honorable mentions:
AZ
AZ is cut right out of the same KOOL G RAP cloth that Nas is cut out from. His flow is memorable, crispy, compact, and concise. Very concise. AZ has been often regarded as the most underrated rapper of all time. The Brooklyn native left his mark when he appeared as the first feature on Nas' classic debut album, Illmatic,
going toe to toe with one of the all-time greats on "Life's a Bitch". As a member of the super group The Firm, AZ continued to stand tall and display a skillful flow and showcase why he is worthy of being mentioned among the G.O.A.Ts. in any conversation where rap is involved. And although he is very much deserving of being on this list for all of the same reasons that some others are on it, his catalog just isn't complete enough to make a proper assessment. It's not a slight on AZ, but when we have others on the list that share the same inspirations and rhyme style as AZ but manage to take the same flow and rhyme patterns to greater levels then AZ ever did, it results in him being mentioned as an honorable.
Slick Rick
One of the best British rappers and one of rap's greatest comedians.
Slick Rick was a brilliant storyteller, and his contagious and distinct approach resulted in hard-hitting tunes. He effortlessly changed up his tone and zoomed in on specifics to completely immerse the listener in his world. When most MCs were discovering out how to combine different rhyme systems into their work, Slick Rick optimized the use of cadence. If the Queen had a rapper instead of a jester, Slick Rick would exist. The La-Di-Da-Di rapper was a master storyteller but make no mistake his unique flow was also masterful. Melodic, half singing half rapping, and often contagious. Slick is often mentioned as a founding father, pioneer, and legend, but despite all of those accolades, he still manages to be one of the most underrated rappers of all time. His classic flow, however, will forever be remembered.
10. Big pun
Pun would easily be higher on this list had he been given a chance to put a bigger discography together. However, Pun was able to establish himself as a rap icon in just two albums, proving that he could rap circles around anyone who dared to confront him. If you're not familiar with Pun, go listen to his debut album Capital Punishment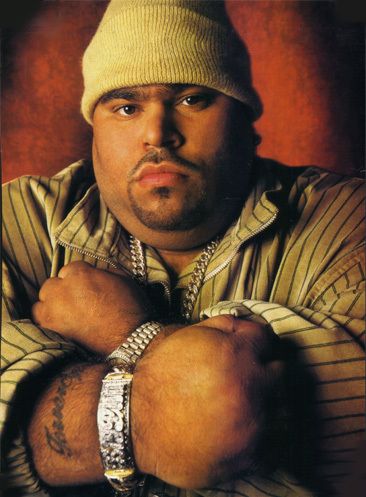 from beginning to end. Starting with "Beware," you'll be blasted with poetic, quick, and punchy flows that will leave you feeling disoriented and unsure of where you are. Pun's ability to cram a lot of information into a short amount of time without seeming like he's racing the beat is incredible. You can't help but love the way he glides on beats with a finesse that even the most seasoned MCs struggle to achieve. Pun can give you subdued flows that complement the feeling he's trying to create through his storytelling when he's not rapping fast. Pun laid the groundwork for many of today's MCs. If you ask any technical rapper who inspires them, they'll almost surely mention him. Pun is, in a nutshell, as hip-hop as it gets, and if you listen to his music, you'll understand why his flow is so good.
9. Big Daddy Kane
Another pioneer of rap and considered one of the founding fathers of the new age style, Big Daddy Kane is probably the most arrogant rapper of all time. With his smooth tone and his complex bars, He was a force of nature, challenging you to match his level of play and then laughing at you when you couldn't. He couldn't maintain his early success.
Oddly enough, it was the industry, not competition, that defeated him. Eminem's rapping was most famously influenced by him; however, he was far more captivating than Marshall Mathers. The video for "Ain't No Half-Steppin" properly compares him to the Mike Tyson of his time. With his cool demeanor, technically sound and lyrically gifted flow, and his swag, the juice crew rapper is widely regarded as one of the most influential and skilled MCs in hip hop history. He has one of the best voices in the history of the game and his flow is certified GOAT-contender. When people mention the most revolutionary rappers of the 80s, along-side the KRS-Ones and Slick Ricks of the world, one name is always at the top of that list. Big Daddy Kane.
8. Jay-Z
There is probably nobody as diverse in the rap game as Brooklyn's own Jay-Z. On his famous Blueprint cut "Hola Hovito," Jay-Z rapped, "I got more flows to come, and if I ain't better than Big, I'm the closest one." This is a bold claim with plenty of open for interpretation. The Notorious B.I.G., according to many hip-hop historians, set the standard for the art of flow with little to no effort. Given Big's legendary
standing among the greats, it's difficult to foresee a day when the student has surpassed the teacher. Despite this, Jay-Z has established himself as one of the best flow-spitters of all time, thirteen studio albums removed from their famous duet "Brooklyn's Finest." Some could even consider him the best in that category, if only for his versatility. There is no denying that Jay is like the Swiss army knife of rap. Nobody has switched up their flows more than Jay and have actually done so as successfully as he has.
Jay was a student of Jaz-O, the Triplet Flow's creator. As a result, seeing his earliest work is bizarre - a young Jigga-Man delivering rapid-fire tongue twisting bars. Although he was good at that style, he quickly shifted to keep up with some of New York's best of the era like a Nas and such. As his style evolved so did his beat selection. He worked with every producer from Kanye west to DJ Premier and made his voice as part of the song as the beat. He has retired and returned more times than Jordan and every time he comes back reinvented, equipped with new flows, new cadences but still successful. Given how frequently Jay is referred to as the "Greatest Of All Time," it's strange to see him left out of a discussion with a similar slant. To discount Jigga's flow would be foolish at best, and naive at worst, given his unequaled discography and extensive range of hits. There isn't a beat he can't adapt to, and there isn't a scheme he won't try. His raw approach simply shows the depths of his instincts, even when he lacks the grace of his competition. Perhaps it's the added benefit of focusing solely on the cerebral side of things. And although all praise is due, the only reason he isn't higher on this list is because while he is very good at every flow, he doesn't stand out as the very best at any one of them.
7. Nas
Nas is the closest thing the culture has ever seen to a Hip-Hop author. From a strictly lyrical standpoint, the Queensbridge emcee may easily rank among the best three writers of all time. Anyone who is familiar with Hip-Hop, and its notable figures is well aware of this. Nas' flow, on the other hand, is rarely discussed.
Not even when he's completely bodying tracks, which he has done since the golden age of Hip-Hop until now. Nasir Jones was swiftly establishing himself as a force to be reckoned with, as seen in the documentary Time Is Illmatic. Footage of him stumbling around on stages, threatening nuns with "automatic rifles," made an immediate impact. Consider the fact that such skillful bars were just becoming commonplace at the time. Nas attacked tracks with increased swagger as the new century dawned, amassing more solo pictures in the span of a single sentence than some of today's biggest hits. In the closing seconds of "Money Over Bullshit," he spits, "Pretty girls glance at us, status unimaginable, luxury jets landed out in Teterboro, cannabis I twirl." Nas guides listeners through his lengthy come-up story with the elegance of a disembodied voice, somehow able to examine his surroundings down to the most precise level, in God's Son intro "Get Down," which may very well be one of the best storytelling tracks of all time. Meanwhile, he's gliding easily over a self-produced banger, his aesthetic DNA emanating peak old school cool. Of course, we'd be negligent if we didn't mention Illmatic, the fundamental work that launched it all. Though he simultaneously blended old block-party rap swing with new grime popularized by Wu-Tang Clan and Mobb Deep, Nas' broad vocabulary and clever turn-of-phrase afforded him more room to control language on his debut. As a result, his flow was allowed plenty of room to breathe, with the possibility of segues and mid-sentence flips thrown open. Inspired by Cool G rap before him, he often rhymes in a compact and concise manner, never wasting any syllables. Having worked with the best producers Hip-Hop has ever seen from DJ Premier to Dr. Dre, Nas has been able to keep up with almost any style or production. If this list was strictly about storytelling Nas would be at the very top, but nonetheless the Queens native's legendary flow remains one of the best in rap history.
6. Kool G Rap
You can't have Nas and Big Pun on this list without including their inspiration. Kool G Rap revolutionized the "no syllables left behind" rap scheme. No word went wasted; no breath left unused. G rap is the reason guys like AZ were even thought of as being mentioned on this list. He is one of your favorite rappers' favorite rappers.
G Rap influenced a whole generation of skilled rappers with his highly technical style. Unique cadence was the name of his game and in an era where nobody was sounding the same, Kool G stood out. So much so that some labels refused to sign Nas because he sounded too much like G Rap. Meaning there could only be one, and at the time, (late 80s early 90s) that one was Kool G Rap. He was an early adopter of multisyllabic rhyming while maintaining that smooth New York flow that inspired several others on this list. While G Rap never hit mass popularity due to his Mafioso style of lyrics, anyone who knows rap knows he's a top rhymer. The breath control, the rhyme schemes, and of course the trend setting flow, puts this hip hop pioneer among the greatest flow-ers of all time.
5. Rakim
We couldn't put this list together without including the man who influenced many of the people on the list himself. The God Rakim Allah. If it weren't for Rakim, the game wouldn't be the same. Rakim threw away the rule book to develop his own style at a period when bars were still dependent on predefined flow patterns in Hip-Hop.
We had no idea what an impact it would have. Rakim's multi-syllabic rhyming systems revolutionized hip-hop. His ability to effortlessly link together his lines set a standard for future rappers. He changed the entire rhyme structure. His breath control and ease on every bar generated a timeless sound, no matter how complicated it was. Rakim's ageless flow has transcended, matured, and entrenched itself within Hip-Hop roughly 30 years after his debut album with Eric B. His flow is so dope, that we are still questioning whether he wrote Summertime for Will Smith.
4. Eminem
While Eminem's flows are often the source of both fan and reviewer disapproval when he releases any sign of music, we can't forget his humble origins and the zany and explosive flows he introduced to the scene. Eminem has been clearly cultivating and working on both his cadence and flow since Infinite.
Whatever changes have occurred in his vocal cords as a result of age and, well, life, he was known for his slightly pitched-up cadence from the start. He was still a little more grounded in an old school Hip-Hop style with Infinite, but that would evolve as he became more and more comfortable with reaching into the darkest corners of his mind. Em has cemented his legacy as the king of the "rap god" flow but has also proven he can switch it up and be more emotional (look up songs where he talks about his daughter Hailey) more honest and rawer (see songs like Toy Soldier or Cleaning Out My Closet) more cartoony (see songs like Role Model or My Name Is) and even a master of the storytelling (see Stan). Not only that, Em has found himself altering his words in order to make both his rhyme scheme and flow work. When Em starts the song "Stay Wide Awake" by rapping "Soon as my flow starts, I compose art like the ghost of Mozart", and he doesn't disappoint. That song is just one of many amazing examples of just how well Eminem manipulates the English language to make his flow work. While Eminem is known for rhyming words that have no business rhyming, (he somehow found multiple ways to rhyme with orange) his linguistic skill is frequently lauded, but his flow is arguably one part of his craft that gets overlooked. The older he gets, the more he plays around with different styles and pushes the envelope past exhaustion. At this point, it's almost as if he is just competing with himself.
3. The Notorious B.I.G
Despite having a small discography and a short time on this planet, Biggie's influence cannot be ignored. His fluidity is responsible for some of his effect. The rapper was tall, and he practically exploited his stature to control his flow and tone of speech. He seemed as if he was about to run out of air with his nasal-driven singing, but it never happened. He also infused his flow with a sense of rhythm, long ahead of our present melodic rap period. Biggie had a flair for swinging phrases in a way. Melody was practically outdated in rap's heyday— it's something RZA discussed on the Joe Rogan Podcast.
What Biggie achieved with his flow pushed us in this way, spurring the growth from "aggressive chop rap" to something a little gentler, as RZA describes it. Before we completely tumbled off the ledge (into that melodious pit) these past couple of years, Biggie helped us reach a middle ground. Biggie gestures at this exact transition on his album, Ready to Die. The "Intro" itself is a traverse of early hip-hop styles, each style coinciding with an era of Big's life. The diversity that comes along with being a bad boy artist dealing with the samplings of Puff Daddy often had biggie switching from sing songy to street storytelling to commercial appeal with ease. With "Big Poppa," Big went for a smooth, r'n'b-tinged record, and he experimented with a flow that sways along with the beat's melody. On "Suicidal Thoughts," he added a more conversational style, rapping to the listener as if they are the only one listening, as if they are on the receiving end of a serious, and potentially therapeutic, chat with Big. It's a dreary flow that almost feels like an afterthought, which works well with the song's heaviness. Biggie connects his phrases in a logical manner (again, he does so skillfully, making it seem simple— which is always a key element of any flawless flow). Big is considered one of the greatest of all time for many reasons and they include rhyme schemes and flow.
2. Snoop Dogg
It was just a matter of time before Snoop Dogg appeared on this list as we got closer to number one. Snoop Dogg debuted in 1992, owing to Dr. Dre's album The Chronic, and quickly became a fan favorite thanks to his buttery smooth vocal delivery
that made you feel like you were smoking exactly what he was. When you listen to Snoop, you get the impression that he's having a conversation with you, with a little extra oomph added to each phrase. Snoop's flow is so natural that you can almost imagine him rapping each stanza while dozing out on some smoke on his sofa. Every phrase is rapped with a carefree manner that is almost unheard of in other rappers. What's noteworthy about Snoop's ability to elicit this mood is that he can do so in a variety of different flows. Snoop is always able to make himself appear as if he isn't even trying that hard, whether he is rapping at a snail's speed or with a more rushed tempo. Other times, Snoop is able to deliver masterful storytelling, changing his flow to make sure he gets every point across. Take, for example, "Murder Was The Case." Snoop plays around with varied inflections in his voice while experimenting with a choppier flow on this single. Switching from his own voice to that of the devil's. Snoop may tease the listener here as they sit on the edge of their seats, waiting to know how the story will end. While some musicians are able to hold an audience's attention with their lyrics, Snoop is able to accomplish so not only with his rhymes, but also with his delivery. The fact that Snoop's flow is so unique is perhaps the most striking aspect of it. There have been a few artists who have attempted to bite him, but none have been particularly successful. Snoop Dogg is simply too iconic to be imitated, and his voice is so instantly recognized that you know it's him as soon as you hear it. While he is currently more of a pop culture phenomenon than an MC, there is no denying his talent and the flow that made him a mainstay of West Coast hip-hop culture in the 1990s and 2000s. He might've not been the originator of the G-Funk era flow, but it's hard to argue that nobody did it better than the Dogg. I will even argue that Doggystyle is a better album then The Chronic and meant more to the style than any other album in the history of west coast rap. Smooth, melodic, calm, cool and collected, all while maintaining his "gangster". Snoop's flow might be the most unique in Hip Hop history.
1. Method Man
Arguably the most popular member of the rap super group Wu-Tang Clan, Method man has distinguished himself almost universally as having one of the sickest and most recognizable flows in rap history. His voice is harsh and raunchy, but he coats it in a smooth flow that blends in with any production. He's also a cadence expert,
using internal rhyme systems that bounce off the drums of whatever he's rapping over. Meth displays his entire range of abilities on songs like "M.E.T.H.O.D MAN" and "Da Rockwilder". He employs vocal inflections to add zaniness to his delivery, but when he collaborates with Biggie on tracks like "The What", he dials it back a bit and shows his grittiness and street. There must've been a reason why Big chose Meth as the sole official featured artist on his debut album. On the Wu-Tang song "Protect Ya Neck" off the Clans debut album "Enter The Wu-Tang 36 Chambers", Meth rhymes "Niggas off, because I'm hot like sauce, the smoke from the lyrical blunt makes me *cough*
and proceeds to literally cough in a manner that actually rhymed with the scheme he was playing with all whiles maintaining the beat and tempo. There is definitely a method to his madness that knows no boundaries with his controlled energy mixed with limitlessness. Method Man has forever been the perfect blend of marketability, mass appeal, women appeal all without ever sacrificing his street credibility. The diversity he brings from hip hop love songs to hardcore tracks, that self-proclaimed witty unpredictable fly shit, is what makes method man the goat when it comes to rap flows.
Don't agree with the list? Let's talk about it. Send us a message via the contact page or find us on social media.